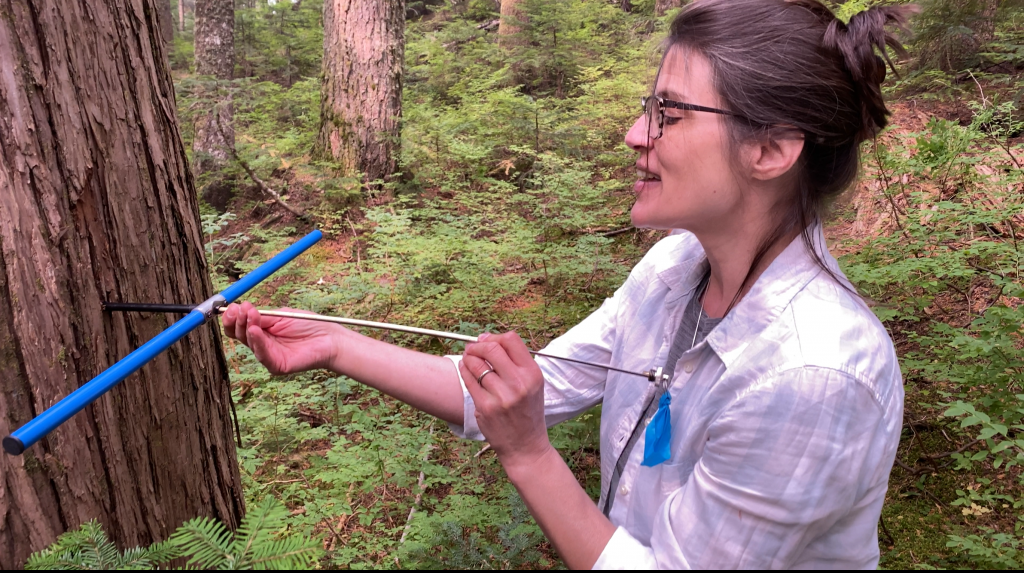 How to age a tree with a coring device
An increment borer – basically a corkscrew for trees – is the classic non-lethal, non-invasive solution for aging trees.
The device removes a tiny strip of the tree's cross section to reveal the annual growth rings hidden inside the trunk.  
Coring a tree "is about the equivalent for the tree of losing a small branch," says Dr. Nina Hewitt of UBC Vancouver Department of Geography.
"The tree will immediately put some sap in there and then it'll very quickly seal over that."
A tree's cross section also reveals information about local environmental history, including climate conditions, extreme weather events, pest epidemics, indigenous harvesting and the health of salmon runs over its lifetime. For the oldest trees, this biological database can stretch back into the thousands of years. 
Cross-dating neighbouring trees can improve accuracy and reveal missing or double rings, which happen in years of extreme seasons or drought.
Watch below as Dr. Nina Hewitt tours an ancient yellow cedar forest known as the Dakota Bear Sanctuary in Sḵwx̱wú7mesh (Squamish) territory on Mount Elphinstone (Sunshine Coast, BC, Canada).
Dr. Hewitt explains the basic principles of dendrochronology, the science of dating trees according to annual rings.
From my Forests of the Future blog